2
Posted on April 5, 2012 by Brooke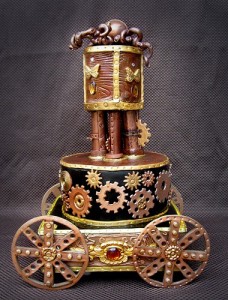 Time for something a little out there!
We kept seeing the term "steampunk," and not being so much in the know (or rather being too busy to care about being "in the know") I had no clue what this meant.  And so I Googled it.
That's when I found out that steampunk is basically a genre of….stuff, that looks old timey and futuristic all at the same time.  Think that Wild Wild West movie with Will Smith, Salma Hayek, and Kevin Kline (which I've never seen…but I've seen some pics.  That counts, right?)  Normally, this involves stuff that's set in a time that used steam power, like the Old West or Victorian England.  Steam power used to make machines, especially futuristic ones.
Anyway…people love this stuff!  And for the true devotee of steam punk, here is the perfect wedding cake for you.  Created by Artisan Cake Company, the cake appears to be made of brass and other metals, woods, and lots of cog-gy gadgets.  There's even a mechanical octopus on top!  It's pretty fabulous, I must say.
Are you a fan of steampunk?  What do you think of this cake, versus a pretty white cake covered in ribbons and fondant?  Let us know in comments below!
Other Posts You May Enjoy:
Read More:
brown wedding cakes
,
metallic wedding cakes
,
steam punk
,
steampunk wedding cakes
,
unique wedding cakes
Recent Posts