0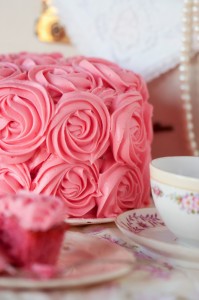 Sometimes cakes are too pretty to eat. Seriously, I would have an awful time eating this one. It's just that gorgeous.
This cake was made by Mary from Apron of Grace for her neighbor's birthday. While this cake might be a bit small for a wedding cake, Mary also states that the design would be lovely on cupcakes and I agree. I also think these sweet rosettes would be amazing on a three tiered wedding cake. Perhaps an alternating cake with a crisp white fondant base and then a second tier completely covered in these gorgeous pink roses and then another crisp white fondant tier. That might not be practical or anything–but I'm a visionary–not a baker.
What do you think? Do you love the roses as much as I do?
Visit Mary's original blog post here. She even shares her recipe for this fantastic cake.
Read More:
apron of grace
,
cakes with pink roses
,
icing rosettes
,
pink cakes
,
pink roses on wedding cakes
,
pink roses wedding cake
,
Pink wedding cakes
,
rosette wedding cake