0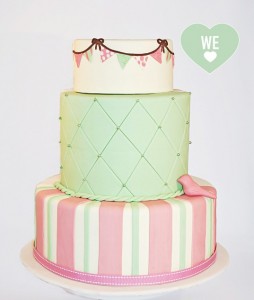 I've been pretty down and out on pink and green as of late.  In fact I think I had pretty much shunned the idea of the pink and green color combo in all aspects of my life.  Seeing the colors together made me want to scream out words like, "dunzo", "passe", "that's so 2009″.
Ahem, now go ahead.  Ask me what my wedding colors were.  Pink and green.  Oh yeah. 
I have a secret.  Today I have fallen back in love with pink and green all because of this gorgeous cake.  I love it..I just LOVE it.  It makes me want to wear a pink and green outfit and wish everyday was Easter Sunday.  This sweet cake is made by Edible Art Cakes out of Cape Town in South Africa.  This cake features a pink, cream and green vertical stripe pattern on the bottom tier.  The middle tier is a double height tier covered in green fondant and a diamond imprint adorned with adorable small pearls.  The top tier is my favorite. Covered with cream fondant this tier is decorated with a green, pink, cream and brown bunting flag.  Bunting flags are definitely a trend that is making its way into the wedding world this season. I haven't even mentioned that pink bird perched on the bottom tier.  Have you died yet?  I did.
So I am back in love with pink and green and I am totally happy about it.  How about you?
Read More:
bird wedding cakes
,
bunting flag wedding cakes
,
Green Wedding Cakes
,
pink and green wedding cakes
,
Pink wedding cakes