2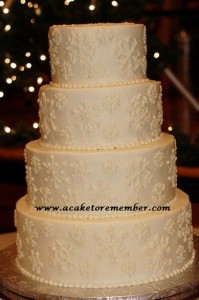 We loves us some Kara Buntin of A Cake to Remember around here.  Yes.  We do.  So, is it any surprise that I choose to wave goodbye to 2011 with one of her cakes?  Probably not.
I am a firm believer in the Twelve Days of Christmas, y'all.  In our home, Christmas isn't over until the Wise Men have come and gone on January 6 (that's the Epiphany, by the way, in case you are wondering what in the world I'm talking about.)  Only then does the tree come down, and all the pretty decorations are tucked lovingly away til next December.
But, even I realize that some of you have moved on.  And so, here, we both win.  I get a Christmas-y cake.  You get a winter-y cake.  Everyone is happy.
This is Kara's first snowflake cake of the 2011 season, and I think it's just beautiful.  White on white, buttercream, with lovely piped snowflakes.  I think I detect a faint luster too, although I haven't confirmed with Kara.  But isn't it just sooo pretty?  Sigh.  Cakes like this one make me kinda wish I had had a winter wedding.  Hmmm.  Vow renewal, anyone?
Have a safe and happy new year, Lovely Readers!
Read More:
buttercream wedding cakes
,
Christmas Wedding Cakes
,
seasonal wedding cakes
,
snowflake wedding cakes
,
white wedding cakes
,
winter wedding cakes