Christmas Wedding Cakes
While it may be unusual to have a wedding on a holiday like Christmas, it's far from unheard of. Combining the festivities of a wedding, with the holiday experience can lead to a lot of fun for everyone involved.
0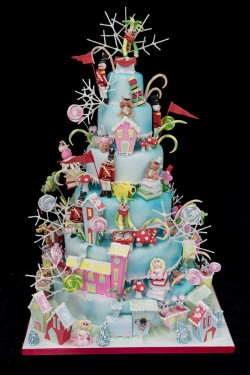 I recently saw someone post on Facebook that there are only 20 Fridays left until Christmas.
And while that seems a little bit crazy, I figured today was as good a day as any to feature this Winter Wonderland wedding cake.
Our good friends at Hockleys Cakes created this whimsical cake for a winter wedding. The cake reflects a "Toytown" theme.
The six tier cake features a blue sky background which enhances the colors of the toys, animals, and buildings that are on display. Read More
0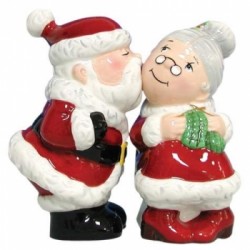 Merry Christmas from all of us here at A Wedding Cake Blog!
To spread a little more holiday cheer today I wanted to share with you this super cute cake topper featuring none other than Santa and Mrs. Claus!
You really can't get much cuter – or more festive – than this very merry cake topper. Read More
0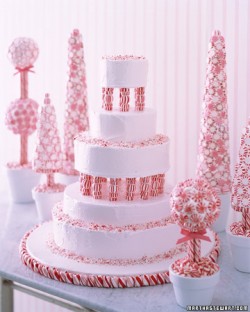 How fun is this cake if you were thinking about having a Christmas in July wedding? It's kind of perfect, really.
Now I'm not sure how many people have a Christmas in July theme for their wedding, but it would be a lot of fun especially when it's a million degrees outside. Your guests could be enjoying a fun winter wonderland complete with this red, white, and pink creation.
I especially love that they've used the red and white Read More
0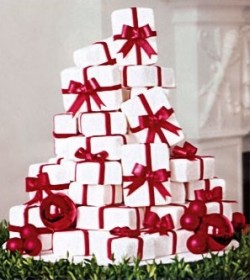 I figure if the big box stores are already advertising, and I'm already shopping, then it's okay for me to start the winter holiday/Christmas-inspired cake posting…yes?  I thought you'd agree.
This one had me at Red Ribbon.  Is this not completely, totally, utterly fabulous?  What appears to be a pile of presents is, in fact, a cake.  Or a pile of cakes.  I'm not sure.
At any rate, I totally Read More
0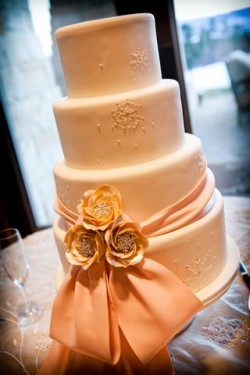 I know that my friends and family in other parts of the country are rrrreeeealllyy super hoping that winter spread its last hurrah recently, when the Facebook posts about falling snow were coming thick and furious.  So to bid adieu (hopefully) to the white stuff, here's a reminder of all that is enchanting and sparkly about it.
There's just something about a snowflake cake!
When I saw this gorgeousness from Rachael Teufel and Company at Intricate Icings, I knew I had to feature it.  The cake was the perfect centerpiece for a breathtaking New Year's Eve wedding in Colorado.  And those aren't Read More
0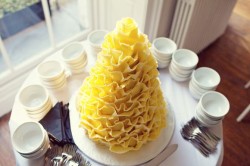 Happy New Year, Everyone!
Yes, I know that technically, I'm a full week behind.  And I know that technically, today is the Epiphany, and the end of Christmas, and not the New Year.  But is anyone else having a hard time cranking up the old machine again, getting on the horse?  I blame Read More
2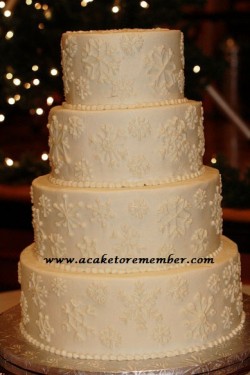 We loves us some Kara Buntin of A Cake to Remember around here.  Yes.  We do.  So, is it any surprise that I choose to wave goodbye to 2011 with one of her cakes?  Probably not.
I am a firm believer in the Twelve Days of Christmas, y'all.  In our home, Christmas isn't over until the Wise Men have come and gone on January 6 (that's the Epiphany, by the way, in case you are wondering what in the world I'm talking about.)  Only then does the tree come down, and all the pretty decorations are tucked lovingly away til next December.
But, even I realize Read More
0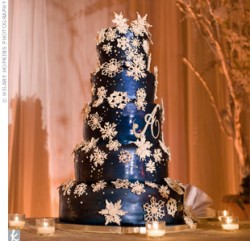 We hope that our greeting finds you happy, healthy, and surrounded by friends and loved ones this beautiful Christmas Day.
We'll be rounding up a little later today – we can't resist the temptation of sneaking off to find all the sweet and pretty that the Read More
0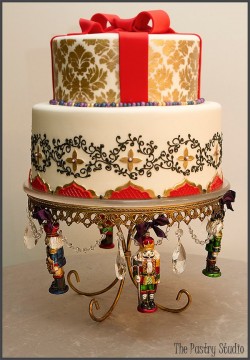 I don't know about you and yours, but around our house, we love The Nutcracker Suite. It's become quite the little tradition in our family, playing the music, watching the video (I favor the old Baryshnikov version), and using the lovely decorations to dress up our home. Even my one year old has become fascinated with moving the soldier's mouth back and forth.
So, of course, I had to share this beautiful cake with you.  Inspired by The Nutcracker, this gilded beauty is the handiwork of The Pastry Studio in Daytona Beach, Florida. From owner and executive pastry chef Sherri Meyers, I learned that the festive Read More
0
I know I've said this before..but if cake pops are in 2011 what cupcakes were in 2010..then consider mini cakes the new cake pop which are the new cupcake.
Can you follow that logic?  Probably not.
But just wait til you see the mini cake beauties I have lined up to bring in 2012.  Unfortunately, none of them were Christmas-themed.  That is, until I found this one.  This Christmas mini Read More