0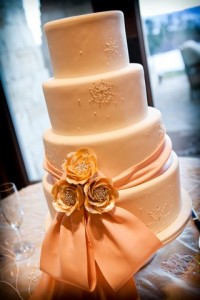 I know that my friends and family in other parts of the country are rrrreeeealllyy super hoping that winter spread its last hurrah recently, when the Facebook posts about falling snow were coming thick and furious.  So to bid adieu (hopefully) to the white stuff, here's a reminder of all that is enchanting and sparkly about it.
There's just something about a snowflake cake!
When I saw this gorgeousness from Rachael Teufel and Company at Intricate Icings, I knew I had to feature it.  The cake was the perfect centerpiece for a breathtaking New Year's Eve wedding in Colorado.  And those aren't just snowflakes.  They're snowflake bling!  Look at the perfect piping, accentuated with crystals, as well as the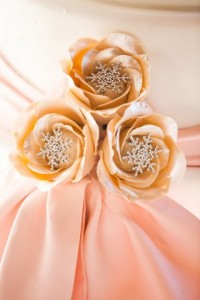 rhinestone snowflakes in the center of the roses, which I especially love…so much, that I'm including a close up.  Besides those beautiful brooches, the floppy blush-colored bow and pearlized ivory sugar roses make this cake sigh-worthy to be sure.
Intricate Icings blogged about this cake here and here, demonstrating the superiority of a professional photographer's touch.  We have Van Buren Photography to thank for these beautiful shots.
Read More:
bling wedding cakes
,
Christmas Wedding Cakes
,
colorado wedding cakes
,
fondant wedding cakes
,
pink wedding cakes bow wedding cakes
,
rhinestone wedding cakes
,
seasonal wedding cakes
,
snowflake wedding cakes
,
white wedding cakes
,
winter wedding cakes