0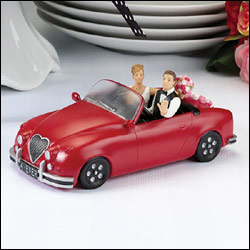 Ah, the Wedding Getaway Car.  Unless you're all limousine-y (I'm not so much), or you're getting married in the dead of winter and not in Cali or Florida, can you really go wrong with a convertible?
And this is some serious cuteness, from the Valentine's Day reds and pinks, to the heart-shaped grill, to the "4-EVER" license plate adorning the front.  And we guarantee that your very talented cake artist could totally dream up some gumpaste tin cans and fondant strings to hang off the back.
Will you be riding off into the sunset in a Little Deuce Coupe?  Love this car cake topper?  Check out the source below for the 411 on where to purchase your own.
Read More:
car cake toppers
,
cute cake toppers
,
funny cake toppers
,
red cake toppers