1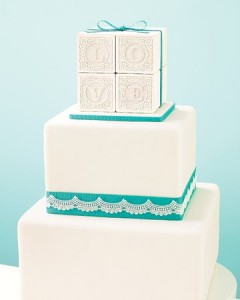 Raise your hands and shout "yahhh" if you've got a thing for Martha Stewart. Let's face it. There is only ONE Martha Stewart and I loves her. I seriously don't think I've ever met anyone that said they hate Martha Stewart–well maybe people who know her personally–but like her stuff and her style…I just don't think anyone can hate her. If you hate Martha Stewart style you probably kick puppies. Or, you don't…whatever.
My point? I do have one. I fell head over heals for this L-O-V-E Block Cake Topper that was found on Martha Stewart Weddings. The topper consists of four blocks spelling out the word love. My favorite part is the gorgeous teal bow that is wrapped around the boxes that coordinates with the fondant stripes around the base. On a somewhat random note I used to have a silver piggy bank that looked just like this topper. Anyone else…or was that just me?
What do you think? Do you share a love for Martha or are you not such a fan? Do you think it's weird she used to date David Letterman? That's a couple I can't see together. Oh well…too bad it didn't work out. They would have had a gorgeous cake.
Read More:
block wedding cake toppers
,
martha stewart weddings
,
martha stweart wedding cake toppers
,
teal and white wedding cakes
,
Teal Wedding Cakes
,
white fondant wedding cakes