0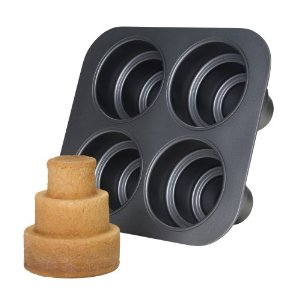 I've been talking excessively about mini-cakes lately. For that I apologize..but I just LOVE them. More than Cake Pops but a little less than Cupcakes, Mini-Cakes are my new lust for 2012. I literally cannot wait for the first wedding that I go to and set my little eyes on a table full of mini-cakes. Oh yes. I'm more excited about this than I am about the release of Tom's Ballet Flats this Spring. I am pretty stinkin' excited about that. I signed up for e-mail alerts.
Imagine my happiness when I discovered today while window online shopping on Amazon that you can buy mini cake tins and make them at home. Seriously. I know that my frosted beauties wouldn't look anywhere near as amazing as mini cakes by true cake artists…but…you know it will be fun in the mean time. If you're handy with the piping bag you might be able to create beautiful mini cakes at home for showers or a Bachlorette party!
This mini cake pan is available on Amazon for about $20.00. That's a pretty good deal if you ask me!