0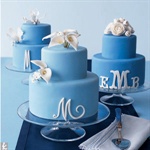 Once or twice..or who am I really kidding here..about fourteen times I've shared my love for all that is monogrammed on AWCB.
So needless to say these adorable blue mini cakes featured here on TheKnot.com.  Seriously?  If Cake Pops are the new Cupcakes then Mini-Cakes are the new Cake Pops.  I see it coming, people.  You heard it here first.  Cupcakes are fabulous but mini-cakes offer the traditional look of a cake and the individuality of cupcakes.  The bright blue fondant on these mini cakes makes my heart pound just a little bit.
How do you feel about mini-cakes?  Are they the next big thing or just a fad?
Read More:
Blue Wedding Cakes
,
bright blue wedding cakes
,
cake pops
,
cupcakes
,
miniature wedding cakes
,
small wedding cakes
,
the knot
,
wedding fads
,
Wedding Mini Cakes