0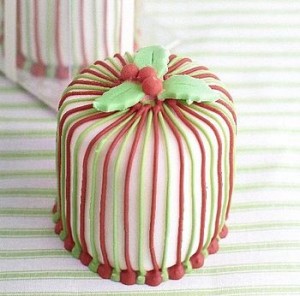 I know I've said this before..but if cake pops are in 2011 what cupcakes were in 2010..then consider mini cakes the new cake pop which are the new cupcake.
Can you follow that logic?  Probably not.
But just wait til you see the mini cake beauties I have lined up to bring in 2012.  Unfortunately, none of them were Christmas-themed.  That is, until I found this one.  This Christmas mini cake beauty.  I stumbled across this one on NotOnTheHighStreet.com (aka, The UK's version of Etsy…a bunch of different shops featuring unique items.)  Anyway, if you lived in the UK you could actually purchase these cakes direct from the seller Cakes by Robin.  Sadly, the time to purchase is up (since Christmas is LESS than four days away)…however, they do serve as some gorgey inspiration for a Winter-themed wedding.  The mini cake features a red and green striped pattern on a white fondant.  On the top of the mini cake sits a cute little holly leaf and berries.
Read More:
baby cakes
,
christmas mini cakes
,
christmas themed cakes
,
Christmas Wedding Cakes
,
fruit cake
,
seasonal wedding cakes
,
wedding mini cakes
,
winter wedding cakes