0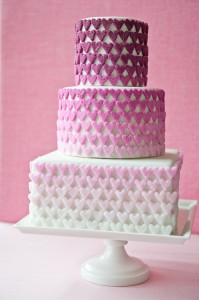 OMG, y'all.
You know that I adore the genius, ingenuity, and hard word that is Erica O'Brien Cake.  From the beginning of my work on this blog a year ago, I have followed her creative process through her blog with fascination.  Right now, I'm captivated by her move across country and her hard work to get her new shop up and running in Hamden, Connecticut.
But in the midst of all the crazy that opening a business entails, Erica still finds time to be, you know, inspired, which just floors me.  And she always seems to find inspiration from things mere mortals don't look twice at, like a pillow.
So today, on Valentine's Day, that day that forces us all to stop and look squarely at love, I had to share one of Erica's cakes with you.  The twist?  It's a cake with a built-in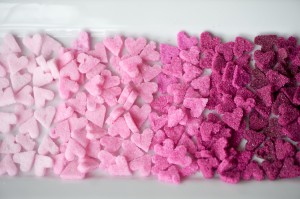 DIY project.  You, too, can make this fantastic cake!  No.  Seriously.  You can.  Or at least the hearts, because Erica's instructions are that good.  Pop over to her website for the complete skinny on how to bring this stunning confection to life.  Not in the mood to bake a three-tiered cake?  We're super sure that these pretty little sugar hearts would adorn cupcakes or sugar cookies – or even your tea table – adorably as well.
Special thanks to Erica for letting us feature this cake, which was beautifully photographed by Brooke Allison Photo.
Happy Valentine's Day, y'all.  xoxo
Read More:
candy wedding cakes
,
connecticut wedding cakes
,
diy projects
,
Erica O'Brien Cake Design
,
hearts wedding cakes
,
ombre
,
ombre wedding cakes
,
Pink wedding cakes
,
sugar hearts
,
sugar wedding cakes
,
unique wedding cakes
,
valentines wedding cakes
,
white wedding cakes