0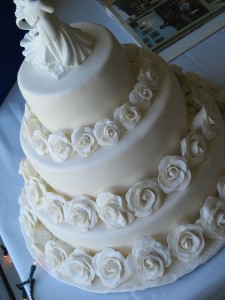 I know.  Not the most cutting edge cake I've ever featured.  But really.  Look at it.  It's beautiful.
There is something so wonderful about simplicity.  A single color.  A motif repeated over and over.  Color carried through various design elements.
I guarantee you that many people overlooked just how pretty this cake was.  "Seen one white cake, seen 'em all."  But the artist really paid attention here.  See how the size of the sugarpaste roses gets slightly larger with each layer?  And notice that the whites match, and the bisque porcelain topper inspires the finish of the entire cake.
You may thing that simple equals easy.  Not so.  Sometimes, the meticulous attention to detail that a simple cake requires trumps the busiest of creations.  You can't fake perfection with simple.  No siree bobby.
Read More:
roses wedding cakes
,
white roses wedding cakes
,
white wedding cakes