0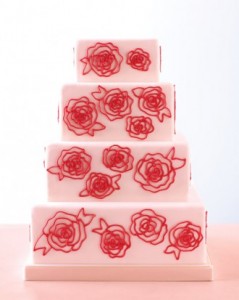 I am loving this pretty pink cake with hand-piped red roses. It's so pretty and elegant.
And, believe it or not, this gorgeous and somewhat abstract wedding cake can be a DIY project.
That's right! If you – or someone in your wedding party – is feeling particularly ambitious, this is a cake that you can create by following a few simple instructions.
I love this cake for a couple of reasons. First, it's pink and I'm quickly becoming a fan of pink wedding cakes. Who needs (or wants) a simple white wedding cake when you can have a cake full of color?!
Second, I love roses. And if I could have a cake decorated with hand-piped red roses, that would make me so very happy. Pink cake with red roses? Perfection!
You can find this gorgeous pink cake here.
Read More:
floral wedding cakes
,
flower wedding cakes
,
hand piped roses
,
Pink wedding cakes
,
red and pink wedding cakes
,
red roses
,
roses on wedding cakes
,
sugar flowers
,
sugar roses