0
Posted on February 11, 2012 by Brooke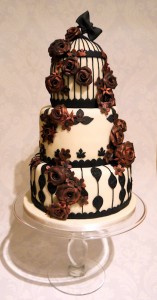 In last week's round up, I featured a link to Boho Weddings, a fun UK wedding blog that celebrates unique and unusual wedding details.  I was so excited to see one of my favorite cakeries, Cakes by Beth, featured in one of their posts!
Beth Mottershead took a unique professional path to her post as owner and creator of Cakes by Beth, via a PhD in Materials Science.  That meticulous attention to detail, coupled with a love of creativity, led her to the place she is today.
Beth recently launched her 2012 Cake Collection (I LOVE that she launches Cake Collections, like the true artist and designer she is!)  We'll be featuring another one of her cakes a little later on, but I had to share this beautiful Gothic Roses and Birdcage Wedding Cake with you straightaway.  Perhaps it is my recent OBSESSION with Downton Abbey, but I adore these dark, rich, fabulous colors, and the intricacy of the birdcage design against the clean, ivory back drop of cake.  The whole effect is vintage, warm, and – dare I agree with of Beth's fans – sexy!  This cake is truly fantastic.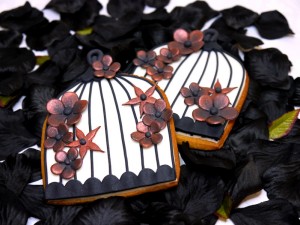 And, as if the cake weren't enough, Beth also offers sweets tables, with coordinating small treats, like these amazing matching birdcage cookies.  I have died.  I have died and gone to wedding cake heaven.
Be sure to visit Beth's website for more of her beautiful work, as well as her fascinating biography.  And let me know if you journey to Manchester, because I totally want you to pick up some of those cookies for me!
Other Posts You May Enjoy:
Read More:
birdcage cookies
,
birdcage wedding cakes
,
downton abbey
,
edwardian wedding cakes
,
gothic wedding cakes
,
manchester wedding cakes
,
roses wedding cakes
,
UK wedding cakes
,
unique wedding cakes
,
victorian wedding cakes
,
vintage wedding cakes
,
wedding cookies
Recent Posts