0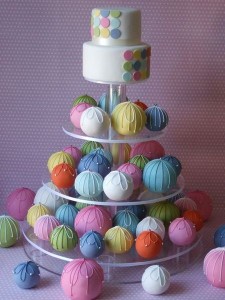 We love Cake Wrecks.  If you want to laugh hysterically (and sometimes, it's at people, and not with them), then be sure to check out this awesome website.
However, we've never linked to them, because, well, usually they're highlighting all that is hysterically wrong with cake.  But then every so often, they show us beautiful cakes, and all is right with the world again.
I just fell in love with this rainbow cake ball wedding cake.  Cake balls (yes, we realize it's kind of a funny term) – not to be confused with cake pops.  First, these are different sizes, and all are much bigger than pops.  Secondly, there are no handy dandy sticks here.
But this is truly beautiful.  And we think that the whimsical couple, looking to inject a little color into the party, would do well to feature something like this.
This lovely cake ball wedding cake was made by Maki's Cakes in Surrey, UK.
Read More:
british wedding cakes
,
cake balls
,
cake wrecks
,
colorful wedding cakes
,
pastel wedding cakes
,
unique wedding cakes