0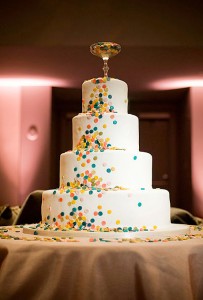 As we move deeper and deeper into the dreary, gray months of winter it's always nice to showcase a cheery and bright wedding cake.
Take this lovely rainbow cake. I love the elegant yet whimsical take on using rainbow colors to decorate the cake.
The cascade of rainbow candy from the champagne glass is so much fun.
Who needs a champagne fountain when you can have a candy fountain?
This lovely cake would be great any time of year but it would really brighten up a winter wedding. Of course you could always use different candy colors – or just one color for a more dramatic look.
This fun and simple yet elegant cake will leave your guests speechless.
You can find this cake here. It was created by Cake Divas.
Read More:
fun wedding cakes
,
rainbow cakes
,
wedding cake with candy
,
whimsical wedding cakes
,
white wedding cakes