pastel wedding cakes
0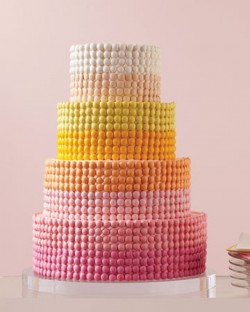 Insert.  Gasp.  Here.
This cake is layered with M&M's.  You are probably wondering what kind of creative powerhouse came up with this bad boy?  Martha Stewart Weddings…that's who.  I mean really…who else do you think would create this cake layered with chocolatey goodness covered in a hard candy shell?
This cake was featured in the latest issue of Martha Stewart Weddings and has been making my Pinterest feed go nuts over the last few days.  This is a four tiered round cake slathered in buttercream and layered with rows and rows of perfectly spaced M&M's…seriously…how do they do that?  I adore the soft pastel colors of pink, orange, and yellow because they just scream summer fun.  As you know, M&M's can come in just about any color you can imagine (you can even get them personalized) so you can coordinate them to match your wedding colors.  I can see this cake covered in the oh-so-trendy dark purple, white, and gray or black, yellow, and gray.  Oh my, the possibilities are pretty much endless.
And most importantly…they melt in your mouth…not in your hand!