0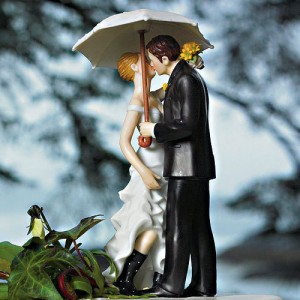 Take it from a former bride who went a weensy bit control freak on her wedding party:  learn to roll with the punches NOW.  Because something WILL go wrong on your big day.
And it should, you know?  I mean, life isn't perfect.  And learning to deal with an imperfect life will only make you a FAR more pleasant life partner to that cute guy (or girl) that you're calling Shnookums these days.
I don't know if this particular Rainy Day Wedding Cake Topper was some adorableness planned for a soggy clime, like Portland or London…or if the the bride and groom love rainy days, or met in the rain, or rain nourished their farm.  But I do know that this couple EXPECTS the unexpected…and even prepares for it (Look at her ADORABLE WELLIES, WILL YOU?)  And that, My Friends, is a very good way to enter into a marriage.
Do you love this adorable rainy day cake topper?  Can you think of other scenarios that might make for top o' cake cuteness?  Leave us a comment below!
Read More:
adorable cake toppers
,
Bride and Groom Cake Toppers
,
funny wedding cake toppers
,
rainy day wedding cake toppers
,
sweet wedding cake toppers