0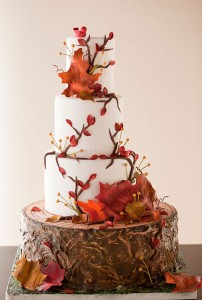 I think it's safe to say that fall is officially here.
There's a chill in the air, the leaves are changing color (at least around here), and I'm starting to see more fall decorations with a lot of orange and brown. So I figured it was a good time to feature a very fall wedding cake.
This is the perfect fall wedding cake – it has rustic colors, leaves, and even an edible tree stump as the cake's base.
The three-tier cake is iced with a beautiful white fondant that is embellished with gum paste leaves and branches in oranges, browns, reds, and greens.
But I think my favorite part of this cake is the edible (!) tree stump that the cake is presented on. Your guests would never guess that it's edible. And it just adds to the rustic fall feel of the cake. Perfect for your fall wedding reception.
We found this fall wedding cake here. It was created by the Wild Orchid Baking Company in New Hampshire.
Read More:
brown wedding cakes
,
fall wedding cakes
,
orange wedding cakes
,
Rustic Wedding Cakes
,
wedding cakes with leaves