0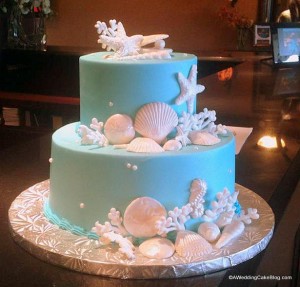 A few weeks back, my aunt, uncle, and their family headed to Key West for some fabulous R&R.  Have you been to Key West?  If not, put it on your list.  Right now.  No, I'm serious.  Go get a pen.
While they were there over Memorial Day weekend, the inn where they stayed happened to be the location of a destination wedding.  This is the cake, which my aunt snapped a picture of and promptly sent to me for use on the blog.  Isn't family the best?
And isn't this cake just incredibly lovely?  The shells are absolutely stunning (I wonder if they could be chocolate, because that really would be perfection!), and I adore the random pearls here and there.  If I had it to do all over again, I'd have a little wedding with only those I love the best, and this would be the perfect-sized cake to feed the 20 or so folks that I invited.  Unfortunately, we couldn't divine the cake artist.  Please, if you know who created this lovely cake, let us know.
Do you love this cake as much as I do?  Leave us a comment below and let us know!
(And thanks, Aunt J, for the quick iPhone camera handiwork!  Mwah!)
Read More:
beach wedding cakes
,
Blue Wedding Cakes
,
destination wedding cakes
,
exotic wedding cakes
,
fl keys wedding cakes
,
key west wedding cakes
,
sea shell wedding cakes
,
seasonal wedding cakes
,
summer wedding cakes
,
Teal Wedding Cakes