0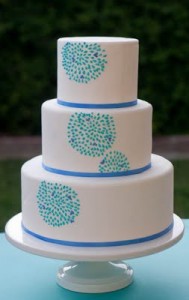 Since I joined A Wedding Cake Blog a few weeks ago I have been searching non-stop for fabulous cakes to feature. And time and time again I will find an incredible cake, fall in love, and come to find out that it is the brainchild of Erica OBrien. This one is another find off of Pinterest and I absolutely adore it!
I love the simplicity and clean lines of the cake. It looks modern and traditional at the same time. And I love love love the different shades of blue she used to bring in a pop of color. I think the little hearts (although I can't decide if they are cerulean or more periwinkle) she hides in the design just make the cake that much sweeter!
So lets hear it…would you let this be your something blue at your wedding?
Read More:
Blue Wedding Cakes
,
circle wedding cakes
,
erica obrien wedding cakes
,
modern wedding cakes