0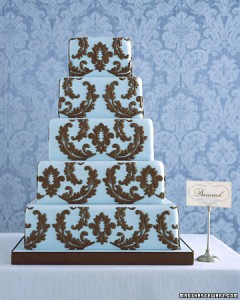 There is something to be said for an elegant wedding cake. And this damask wedding cake is both elegant and beautiful.
We've featured damask cakes here before and each time we do the cake is so incredibly gorgeous that it's almost too pretty to eat.
I love the color combination on this cake more than anything – it's what drew me to the cake, more so than the damask scrollwork.The blue and brown work so well together and they're perfect colors for a late fall or early winter wedding. And with a blue cake, you'll have your "something blue."
I also love that this five-tier cake is square and not the more traditional round. I'm a big fan of non-traditional shapes when it comes to wedding cakes (heck, my wedding cake was eight tiers of heart shaped cakes!). Plus, the square shape works well with the damask design and adds to the beauty of the cake.
If you're planning an elegant, formal wedding reception and you're still looking for that perfect cake design, take a cue from this cake and consider adding a damask design to your idea book. And go with two complimentary colors rather than a more traditional single color. Your guests will definitely be wowed.
I found this stunning cake here.
Read More:
Blue and Brown Wedding Cakes
,
blue cakes
,
Blue Wedding Cakes
,
brown and blue wedding cakes
,
brown damask
,
damask wedding cake
,
damask wedding cakes
,
elegant wedding cakes
,
light blue wedding cake
,
something blue
,
square wedding cakes