0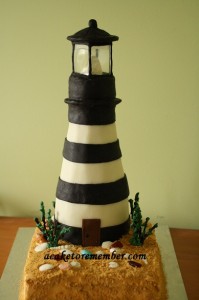 And here's one for ME!
I love lighthouses, and I love Kara Buntin of A Cake to Remember in Richmond, Virginia (seriously, brides and bakers…READ HER BLOG.) So that prettymuch guaranteed that you were going to see this cake.
So here's deal…this isn't actually a wedding cake. But it COULD be. Or it could be a groom's cake (but it isn't, that I know of.)
But don't you love it? It's a base cake (yep! that graham cracker crumb sand is covering cake, too!) with a 24-inch tall lighthouse on top of it. Lighthouses speak to me of warmth, and strength, and safety. I just love looking at them, climbing them, thinking about all the ships and boats they've saved. A few replicas might have crept into my decorating through the years.
Kara made this cake almost as sturdy as the real thing, because the client was picking it up. The black and white strips are made of molding chocolate and candy clay to lend extra rigidity. The foliage, rocks, and shells are all candy, fondant, and chocolate. Even the beacon, made of isomalt (fancy sugar substitute that you can pull and mold, and it isn't as finicky as pulled sugar) is edible! The only thing you can't eat is the beacon's covering.
If I thought it would survive the trip from Virginia, I think I would request a Ponce Inlet lighthouse replica from Kara for my next shindig.
Read More:
beach wedding cakes
,
Black and White Wedding Cakes
,
lighthouse cakes
,
lighthouse grooms cake
,
lighthouse wedding cakes
,
seashore wedding cakes