0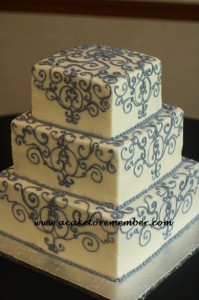 I love blue.  I don't know how I didn't end up with a blue wedding cake myself.  Probably because it Just Wasn't Done as much – you know, color – ten+ years ago.
I also think that scrollwork is lovely.  The lacy patterns made with scrolls really aren't so much feminine, so usually, guys don't object.  And they just seem to dress up the face of a cake without making it fussy.
This beautiful three-tiered square buttercream cake was created by Kara Buntin of A Cake to Remember in Richmond Virginia .  The design piped in buttercream mimics the detail on the couple's wedding invitation.  The shade of blue was used throughout the reception as well on linens and other touches.
Do you love this cake by Kara?  Check out some of her other creations that we've featured, like her lighthouse cake, her snowflake wedding cake, and one of my very favorite ever – seriously, I waxed poetic, y'all – Kara's tartan wedding cake.
Read More:
Blue Wedding Cakes
,
scroll wedding cakes
,
scroll work wedding cakes
,
scrollwork wedding cakes
,
Virginia Wedding Cakes