0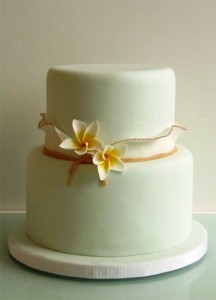 This one…is for my mom. Happy Belated Mothers' Day, Mom! Here's your wedding cake!
My mom took the trip of a life time a few years back with one of her best chums and my grandmother – to Hawaii, some place Mom and MaMa (remember, I'm from West Virginia, y'all) had always wanted to go. They came back absolutely in LOVE with plumeria, the beautiful flower pictured on this cake. I couldn't imagine the beauty, they said. It smelled so wonderful, they said.
I don't know if another trip down the aisle is in the cards for my Mom, but if it is, and if she has gotten past the Martha Stewart cake she made me promise that I'd make for her if this ever happened, then this beautiful cake, with it's simple fondant covering and sweet ruffle and plumeria finish, would be just the thing.
This lovely cake was the handiwork of Flour Fancies, Inc., in North York, Ontario.
Read More:
exotic wedding cakes
,
hawaii wedding cakes
,
plumeria wedding cakes
,
ruffle wedding cakes
,
small wedding cakes
,
white wedding cakes
,
yellow flower wedding cakes