0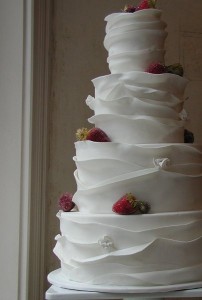 I featured another cake by Bella Manse a few weeks ago because I thought we all needed a reminder of pretty spring colors.  However, this is the one that first endeared me to cake artist and owner Renee Schlotzhauer.
I love what she has done with these wispy, wavy ruffles.  I've never seen another cake exactly like it.  The sugared strawberries add a deft touch of color to the pallette that is just delicious.  The tall, slender profile is lovely, too.  This would be a cake that truly, I would hate to cut…I wouldn't be happy to wreck the surpassing gorgeousness.
Like an ethereal wedding gown, or a delicate calla lily, this beautiful cake seems to float through the air.  I think it would be just perfect for a summer wedding.
Read More:
delicate wedding cakes
,
ruffled wedding cakes
,
strawberry wedding cakes
,
summer wedding cakes
,
white wedding cakes