0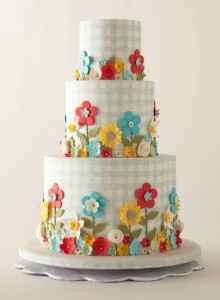 Gingham is darling anyway, but gingham on a cake? Yes, please!
The brainchild of Bijoux Doux in New York City, this cake is whimsical, joie de vivre-y, and makes me want to wear a party dress and drink lemonade.  In other words, it's summer perfection.
The double-height layers – an effect that we just love around here – are covered with what appear to be made with a silkscreen transfer on sheets of chocolate, but it could be fondant with an amazingly sharp edge.  The muted effect is darling, and reminds me of a vintage (VINTAGE!) oilcloth tablecloth.  But the flowers are sheer genius!  Made of fondant in bright shades of primary colors, I can't help but think of old fashioned kitchen when I see this cake.
Do you love this cake as much as I do?  What do you think of a casual gingham wedding cake for a breezy summer wedding?  Let us know in comments!
Read More:
brightly colored wedding cakes
,
gingham wedding cakes
,
new york wedding cakes
,
seasonal wedding cakes
,
summer wedding cakes
,
whimsical wedding cakes