0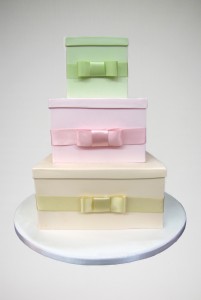 I love me some classic…well, anything. And isn't this pretty? I just want to grab my pencil skirt, cashmere cardigan, pearls, and kelly bag and go shopping with the girls. And then maybe to lunch. At Neiman Marcus.
Whew! Went a little too far into that 1950s movie fantasy right there.
But this cake will do that to you! Pretty boxes are my thing. I love to give a gift inside the gift of a pretty box, so this cake really appeals to me. And the satin ribbon is the perfect touch.
I'd love to say that you could change up the colors – and you totally could – but I sooooo wouldn't want to. I think it has reached Cake Nirvana just the way it is.
Planet Cake from Australia is responsible for this pretty. And the first flavor they offer it in on their website? Chocolate Mud Cake. I'm serious, y'all. Cake. Perfection.
Read More:
australian wedding cakes
,
boxes wedding cakes
,
pastel wedding cakes
,
satin bows wedding cakes