0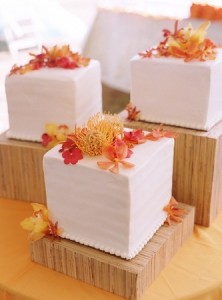 If you're a foodie, or enjoy watching any of the foodie shows on Bravo or Food Network (etc., etc., etc., infinity), then you've heard the term "deconstructed" applied to food.  It's been around for quite a while now, but you know, I don't really mind it.  It usually means that the chef is focusing far more on the sum of the parts than he normally would.
This cake caught my eye because it was a "deconstructed" wedding cake.  Now, that's not really all that new.  There was a mini-trend of separated tier cakes in the 80s, and it seems to continue to this day (you might remember Christen's separated tier chocolate wedding cake.)  But I think I like "deconstructed" a little better.  Sounds edgier, dontcha think?
Perfectly cubed cakes (and I LOVE a square cake) on bamboo butcher block pedestals of different heights, trimmed with exotic flowers.  This is really lovely.
Read More:
bamboo cake stands
,
deconstructed wedding cakes
,
exotic floral wedding cakes
,
trendy wedding cakes
,
white wedding cakes