0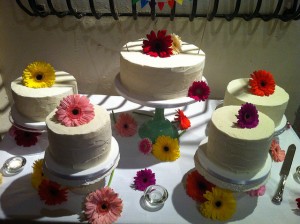 This cake reminded me so much of my friend Christen that I just had to share it with you.
Christen used to contribute regularly to A Wedding Cake Blog, and I know that she still loves to keep up with all the Sweet and Pretty that we feature here. And this cake actually reminds me of her for two reasons: A) she LURVES gerbera daisies. And B) her wedding cake was made of separated tiers like this one.
Actually, I think this would be a really fun and unique way for a bride or groom who loves to bake to turn their cake into a DIY project. A deconstructed wedding cake like this one is no more difficult to put together than so many layer cakes, after all. And if you keep the frosting simple, then decorating is a breeze. The embellishments become all about extra touches, like the big, dramatic blooms and festive bunting you see here.
What about it?  Are you up for a little wedding cake DIY?  Leave us a comment and let us know!
Source
Read More:
daisies wedding cakes
,
deconstructed wedding cakes
,
diy wedding cakes
,
gerbera daisies wedding cakes
,
white wedding cakes