0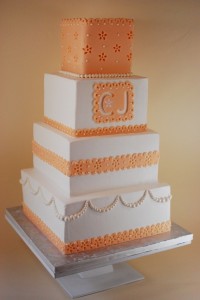 Peach eyelet and pearls make this wedding cake a summer stunner!  And the monogram seals the deal.
Jenniffer White from Cup a Dee Cakes worked with this couple to create a one-of-a-kind cake.  They knew they wanted to use peach and eyelet in the overall design, and Jennifer used a special fondant that would hold up to the cutouts.  The rest of the cake is iced in flawless buttercream, and is trimmed with pearls and the couples' monogram.
There are so many beautiful touches here.  The repeating pattern that Jenniffer has varied slightly on the layers.  The beautiful color.  The pearls.  The perfect buttercream on the perfect squares.  And as much as I love the peach, I keep thinking of how lovely this cake would be in a myriad of colors, from yellow to periwinkle to sage green.
As always, well done, Jenniffer

Read More:
eyelet wedding cakes
,
peach wedding cakes
,
preppy wedding cakes
,
seasonal wedding cakes
,
summer wedding cakes