0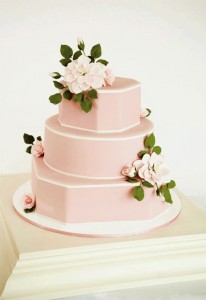 Pretty, pretty, pretty.  And dare I say – without being fired upon where I stand – ladylike?
This breathtakingly beautiful pink wedding cake with white trim makes me think of Easter dresses, and ladies who lunch, and kelly bags, and spectator pumps, and white gloves and hats, and every sweet, fun thing that there ever was about being a girl.  Really.  I wouldn't be surprised if there were a strand of pearls secreted about it somewhere.
Created by Jean-Paul's Creative Cakes in (of course!) Charleston, South Carolina, pale pink fondant hides layers of almond cake, sandwiched together by raspberry jam and covered in buttercream.  There are so many wonderful touches here:  the squares with cutaway corners make delightful octagons, which are alternated with a round layer.  The pedestal.  The ribbon-trimmed cake board.   The spare use of very lifelike sugar flowers is also wonderful, proving you don't need a ton of flowers to make a statement.  And I love the flowers that were chosen, gardenia and rosebuds. So old-fashioned, and a perfect choice for using sugar flowers, since you probably wouldn't want extremely fragrant gardenias anywhere near your cake.
Read More:
fondant wedding cakes
,
gardenia wedding cakes
,
ladylike wedding cakes
,
octagon wedding cakes
,
Pink wedding cakes
,
rose wedding cakes
,
south carolina wedding cakes
,
summer wedding cakes