0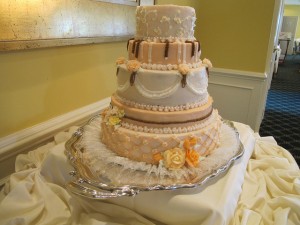 I don't know what it is but lately I have been finding some unique themed wedding cakes. It seems like it has been a LONG time since I've featured a traditional sweet and pretty wedding cake. For most of us, weddings are all about the sweet and the pretty.
This cake is simply gorgeous. It takes the traditional idea of a wedding cake and bumps it up a notch. I love the unique color combo which features peach, cream, orange, and dark brown. If I just heard about this cake and didn't see a picture first in my mind I would be going eeeeeeeeewwwwww because that color combo does nothing for me on paper.
In person. it presents this pretty cake. The intricate piping on the tiers is breathtaking–but for me it's all in the details. From the pearls that surround the base of some of the tiers to the sweet lacy ruffles that the cake rests on. The addition of the dark chocolate brown gives it a contrast I just love!
Read More:
cream and brown wedding cakes
,
cream wedding cakes
,
floral wedding cakes
,
lace and pearl wedding cakes
,
lace wedding cakes
,
orange wedding cakes
,
peach and brown wedding cakes
,
peach wedding cakes
,
pearl wedding cakes
,
vintage wedding cakes