0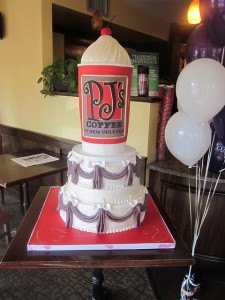 I love coffee, and I love cake.  And when those two passions collide, bliss is sure to follow.
This is just Thursday post fun, y'all.  I spied this pic when I was looking for something on Flickr, and just had to share.  Apparently, PJs Coffee of New Orleans features a (sounds yummy) coffee flavor called "Southern Wedding Cake." (There better be booze in there if it's gonna be reality.  But I digress.)  In honor of the return of this fab flavor, there was a little launch party of sorts, and Sucre, a local bakery, provided this fantastic wedding cake!  Isn't that awesome?  From what we gather, the cup is fake, but the rest is real, bonafide weddin' cake.  Love.  It.
If you want to see just how deep my love of cake and coffee goes, check out this post I did a while back about the Ultimate Starbucks Coffee Cake.
Read More:
coffee wedding cakes
,
louisiana wedding cakes
,
new orleans wedding cakes
,
pjs coffee
,
publicity wedding cakes