0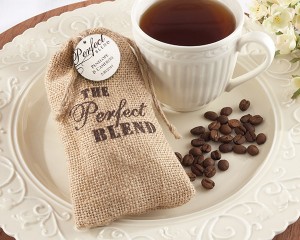 If there is one thing I can't live without, it's coffee. If I happened to be stranded on a deserted island there better be a coffee shop nearby or things might get out of hand.
Which is why I found this favor to be completely perfect for any couple who has a love affair with all things java.
These small burlap bags feature the words "The Perfect Blend" and can be filled with your favorite blend of coffee beans. And if coffee isn't your thing, you could find the perfect flavor of tea to give to guests. Or you could get fill the bags with your favorite candy – maybe a sweet and savory snack combination that is the "perfect blend"?
I personally love the coffee bean idea, because there are so many options when it comes to coffee. For a fall wedding you could use a pumpkin spice coffee bean, or maybe choose a holiday blend for a Christmastime wedding. For a spring or summer wedding you could pick a lighter coffee blend. The possibilities are endless.
A word of caution though. Apparently these cute little bags are super popular and can't be ordered until early December. But if you want to check them out, I found these little cuties here.
Read More:
burpap bag wedding favors
,
candy wedding favors
,
coffee
,
coffee beans
,
fall weddings
,
small wedding favor bags
,
starbucks coffee
,
tea wedding favors
,
wedding favors