0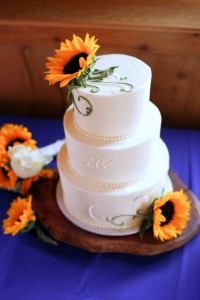 Ah, Happy Summer, Y'all!
Bees buzzing, lazing in a chair with a glass of lemonade, as the hazy sun shines.  Tall grasses, children playing – because they are the only ones who have the energy in the heat.
But as the sun sinks lower into the sky, and with it, the mercury, we come alive as the stars come out to play.  Grab your pashmina and keep the party going!
I waxed a wee bit poetical right there, didn't I?  Well, I couldn't help it.  I was inspired.  By the cake.
Don't you just love sunflowers?  Nothing says "Heartland Summer" quite like them.  And I love that this bride chose to use fresh sunflowers on her wedding cake.  But Rachael and her team at Intricate Icings took it up a notch, lending some elegance to the shabby-chic feel with vining scrollwork in both green and white, and finishing the cake with the couple's monogram in beautiful, white-on-white script.  And to top it off, this fabulousness is buttercream, y'all.
So go back to your lemonade, and no worries.  It's summertime.  And the livin' is easy.
Photo Source:  Newell Jones + Jones Photography
Read More:
buttercream wedding cakes
,
colorado wedding cakes
,
informal wedding cakes
,
intricate icings
,
seasonal wedding cakes
,
shabby chic wedding cakes
,
summer wedding cakes
,
sunflower wedding cake