0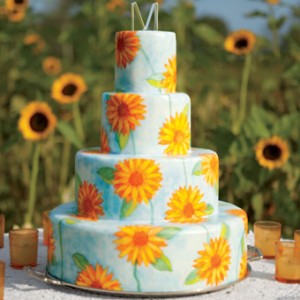 Sunflowers are my absolute favorite flower.
Sure, I love roses as much as the next person but sunflowers are just so darn happy. It makes them really hard to resist.
So imagine my surprise when I saw today's wedding cake – it's all sunflowers!
This cake just screams happiness and joy .. in a subtle and somewhat elegant manner of course.
The four-tier cake features hand-painted fondant which makes it that much more amazing. Imagine how gorgeous this cake would look at your spring or summer wedding.
It's really almost too pretty to eat.
You'll find this cake here. It was created by the JollyBe Bakery.
Read More:
fondant
,
hand painted cakes
,
summer wedding cakes
,
sunflower wedding cakes
,
wedding cakes with flowers