0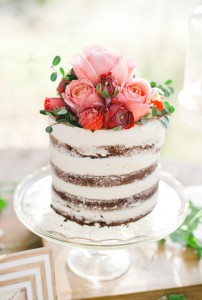 I have to admit, I find the unfrosted – or "naked" – wedding cakes a bit jarring.
I think that's because I want my cake to be overloaded with frosting. I'm the "corner of the cake" kind of girl because that's where the highest concentration of frosting hides.
So when I see a wedding cake sans frosting, it makes me wonder "why?"
However, I am always one to give cakes the benefit of the doubt (unless there's carrot cake involved) so let's go forth and explore the wonder that is the naked wedding cake.
I really do like the look of this cake.
It's modern and unfussy and really pretty.
I especially love the bunch of fresh and bright colored roses and peonies that serve as the cake topper. I say you can never go wrong when using fresh flowers on your wedding cake. It's elegant and pretty. And you can use it as a tie-in with your wedding flowers.
And it looks like there might be frosting in between the layers of this one-tier cake, so that's good. I also love how the many layers make a small, one-tier cake look much bigger.
This cake is ideal for a smaller wedding and it would be perfect at your shabby-chic outdoor wedding this summer.
This naked cake was created by S'more Sweets and you can also find it here.
Read More:
cakes with no frosting
,
frosting
,
modern wedding cakes
,
naked wedding cakes
,
shabby chic wedding cakes
,
summer wedding cakes
,
wedding cake with fresh flowers
,
wedding cakes without frosting