0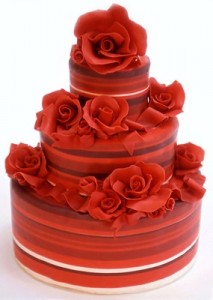 I'm not feeling very subtle today. So I went in search of a cake that would set Brooke convention (you know, beachy, classic, pearls, blah blah blah) on its head.  And this is what I found.
Isn't this stunning?  Bands of different red hues encircle an otherwise simple three-tiered round cake.  A band of white is added on the top and bottom layers for contrast, and the whole thing is trimmed out in sumptuous, haughty, full-blown, redder-than-red sugarpaste roses.  Fondant ribbon completes the look.  This cake, my friends, is a drama queen.  And I LOVE HER.
Really, I think the monochromatic vision of this cake is brilliant.  I would love to see the wedding that features this cake.  I'm thinking earthy, passionate, and elegant, like a Flamenco Dance.  Sigh.
Read More:
dramatic wedding cakes
,
monochromatic wedding cakes
,
red roses wedding cakes
,
red wedding cakes
,
roses wedding cakes
,
striped wedding cakes