0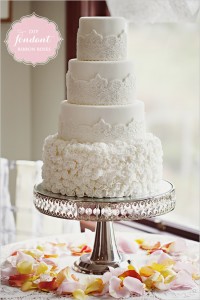 Hey y'all!
I featured a link to this beautiful cake a few weeks back in my Let Them Eat Cake Sunday Round-Up. But I loved it so much that I reached out to the Wedding Chicks girls and asked if we could show it off in its own post.
Roses are just so pretty, and never, ever go out of style. And there's not an ugly one out there, you know? Every color, every variety. They're so pretty, and ladylike, and classic. They're old-fashioned, and yet they never go out of style.
I also love that there are so many ways that you can interpret a rose for a cake. You can, of course, use fresh roses, like we have one this beautiful orange cake. You can pipe them from buttercream, and make them look real or stylized. You can fashion them from sugarpaste as well. But today, we're featuring something that you can totally DIY for your wedding cake or another special occasion: fondant roses.
This cake is beautiful anyway, with its pressed molded lace. But isn't the bounty of ethereal white roses on the bottom layer just darling?
Check out Wedding Chicks' site for the DIY tutorial, which is the beautiful work of Buttercream Couture. Fabulous!
Read More:
diy fondant
,
fondant wedding cakes
,
lace wedding cakes
,
roses wedding cakes
,
wedding diy
,
white roses wedding cakes
,
white wedding cakes