0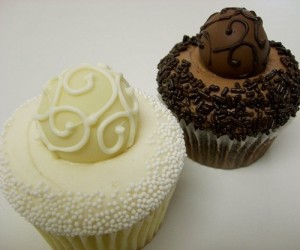 What could possibly be better than bride and groom cupcakes?  Why, bride and groom cupcakes topped with TRUFFLES, of course!
This pic is equal parts "Duh, why didn't I think of that?" and "AWESOMENESS!"  Beautiful his and hers cupcakes, each topped with a rich chocolate truffle.  How fun and simple and delicious.
This would make such an awesome DIY project for the crafty baker.  There are few things more SQUEEEEEE!-worthy than cupcakes and truffles, and both are SCANDALOUSLY easy to make yourself!  And as for fancy decorating?  Take it from me: those sprinkles can cover a multitude of sins.
My only problem would be NOT stealing my groom's chocolate-chocolate truffle and leaving him my white chocolate one in return.  Anyone?  Anyone?
Read More:
chocolate wedding cupcakes
,
diy wedding cakes
,
truffle cupcakes