2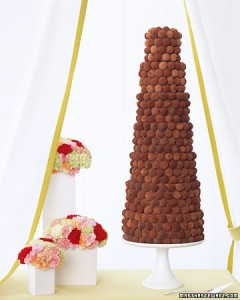 Care for some chocolate?  Because I am having a totally chocolate attack.  And now, so are you.
Martha strikes again, y'all.  Don't you simply love this?  Inspired by the French croquembouche, which is a tower of cream puffs covered with spun sugar, Martha Stewart and Co. came up with this chocolate truffle wedding cake.  This is seven layers of cake, coated with chocolate ganache.  The hand rolled truffles are then coated in different cocoa powders for slight variation in color, cut in half, then glued – with ganache…OMG y'all – to the sides of the cake.
This is chocolate heaven.  Period.
As I mentioned recently in this other post about a chocolate wedding cake…seriously, I'd have zero qualms serving this cake instead of something white.  I know chocolate usually gets pushed off to the groom's cake.  But.  So.  Why??
For my DIY Brides (or if you'd just like a little snack) check out the complete how to for this chocolate truffle wedding cake here.
Be right back.  Heading into the kitchen to make truffles.
Read More:
brown wedding cakes
,
chocolate lovers wedding cakes
,
chocolate truffle wedding cake
,
chocolate truffles
,
chocolate wedding cake
,
ganache