0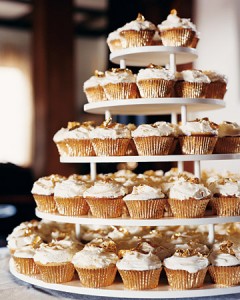 I absolutely love cupcakes and had they been the "in" thing all those eons ago when I tied the knot, I would have totally served cupcakes at my wedding.
And these golden cupcakes would have been at the top of my list of favorites!
The cupcakes are carrot cake – which isn't everyone's cup of tea, I know – but I'm sure you could adjust the cake flavor to something you liked if you aren't a fan of cakes made from carrots.
Personally, I think these would be perfect at a fall wedding because for some strange reason carrot cake makes me think of fall. The cupcakes are topped with a delicious looking cream cheese frosting (natch!).
But the best part has to be that each cupcake is topped with edible gold dust and a leaf. Let me say that again. Edible. Gold. Dust. If the wedding and reception weren't enough to wow your guests, feeding them edible gold dust will certainly raise the buzz-o-meter.
I've never been lucky enough to eat anything topped with edible gold dust, but I'd certainly give these glittering beauties a try!
I found these yummy cupcakes at Martha Stewart Weddings.
Read More:
autumn leaves wedding cakes
,
carrot cake cupcakes
,
carrot cake wedding cakes
,
edible gold dust on cupcakes
,
fall leaves
,
gold wedding cake
,
leaf cake decorations. edible fall leaves
,
wedding cupcakes