0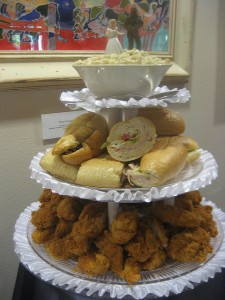 Guys, I had to.
So many times, I see groom's cakes, and I think, that groom had NOTHING to do with picking out this cake.
But this one has the mark of GUY  all over it.
From the chicken tender bottom tier, to the subs on the middle tier, to the bowl of macaroni salad on the top tier (oh boy, I hope they didn't freeze it) and beyond – to the Chewbacca and Bride cake toppers….nothing has EVER said "guy cake" louder or more appropriately.
So, let's hear it, brides and grooms.  Brides, would you "let" him do this at your hoity toity reception?  Guys, does this picture complete you?  Leave us a comment below and weigh in.
Read More:
groom's picnic "cake"
,
nontraditional grooms cake