0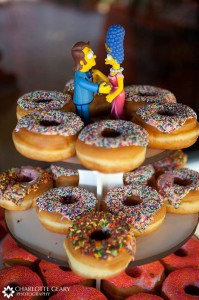 It's not that I think most guys are not interested in a serious groom's cake.  It's just…well…they aren't.
Ask the typical guy about any facet of a wedding ceremony or reception, and you probably will be greeted with a lukewarm response at best.  Sure…they might have their niche interests, like what music will be played or the like, but they probably aren't going to want to parse every detail to the nth degree.
So I think an  über fun way for him to bring a little personality to the mix is to give him carte blanche with the groom's cake, and let it really be an expression of his personality or likes.
I love this one!  Super easy to pull together with some fun action figures and pretty sprinkle doughnuts, you know this guy had a hand in this choice.  I hope there were recliners strategically placed around the room.  Better yet, I hope there were Ribwiches featured on the menu.
I found this cute pic on Pinterest.  It's the handiwork of Charlotte Geary Photography in Reston, Virginia.
Read More:
alternative grooms cake
,
donut grooms cake
,
doughnut grooms cake
,
fun grooms cake
,
non traditional grooms cake
,
simpsons grooms cake
,
the simpsons