0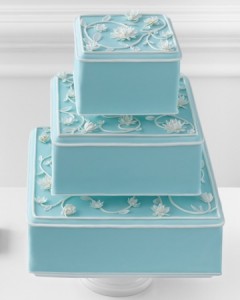 I love when old things are new again.
I remember when I was growing up that there was really no such thing as a stacked wedding cake.  It was the era of plastic columns and rigid structural work.  The first few times that I saw the rig that held cakes together, it was kind of like strolling "backstage" at Disney: the magic was gone.  The Mickey Head was off the guy, and he was eating a turkey sandwich.
My point? After two – three? – decades of almost nothing BUT stacked cakes, it's refreshing to see a little space between those layers once again.
This Tiffany blue cake is a good, classic choice for the pearl and bow tie set.  Nothing says timeless like this color; it's firmly embedded in our psyche through years of brilliant marketing.  The fondant vines and gumpaste flowers provide a little 3D contrast as they lie almost flat in frames on top of each layer. I simple adore this cake.  It's like nothing I've ever seen, even as it evokes old traditions and memories.
We have the brilliant staff of Martha Stewart (specifically cake goddess Wendy Kromer) to thank for this one.
Read More:
blue and white wedding cakes
,
classic wedding cakes
,
preppy wedding cakes
,
tiffany blue wedding cakes