2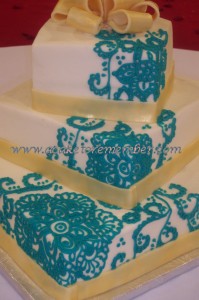 Welcome to A Wedding Cake Blog's first Sunday Round-Up ever!
Here, we plan to give you some interesting tidbits to snack on, as we review fun things that have happened in the world of wedding cakes this week.
If you know an awesome wedding blogger or bakery that you'd LOVE to see us feature on aWCB, please send us a comment!  We are ALL about making friends and learning what's new in the wide world of nuptial noshing.
Happy Reading!
Kara Buntin at A Cake to Remember in Richmond, Virginia, is doing an awesome, awesome contest for the couple with an adventurous spirit!  She'll make your cake for free if you win!  Seriously…can I move?  And remarry my husband?  (And thanks to Kara for letting us feature her stunning Mehndi-patterned cake above.)
Envy Cake  Vancouver, British Columbia, brought to our attention adorable Hilary Duff's naked wedding cake in their "Celebrity Wedding Cakes" post this week –  a rustic option for the couple who thinks that a good frosting just gets in the way of all that delicious genoise...or pound cake…or…chiffon cake…or…
Kari and Brian Haskell of Las Vegas' Retro Bakery – whose passion is CAKE that TASTES as GOOD as it LOOKS –  show us some wicked cool cakes from the week in their round up – check out the amazing Toy Story Cake, the beautiful Love Birds Wedding Tower o' cupcakes (tweet tweet!), and the pretty-as-a-picture Pink Quilted Fondant Cake in this post!
Who says your jewelry can't match your wedding cake?  Because it TOTALLY can!  Take a look-see at these fun and cool caketoppers, made of Swarovski crystals, by Touch of Crystal.  (I think the Crystal Flower is my favorite.)
Always wanted to get the 4-1-1 on Disney Fairytale Weddings, but didn't want to crash an event?  Here's your chance to check it out!   Walt Disney World will hold its 2011 Bridal Showcase March 18-20 in Florida.
Pink Cake Box reminds us NOT to forget about the groom on your special day! Their Fisherman's Groom's Cake even pays tribute to hubby's favorite beer around the base.

Read More:
A Cake to Remember Richmond
,
Disney Bridal
,
Disney Fairytale Weddings
,
Envy Cake Vancouver BC
,
Fishermans Groom Cake
,
fishing cakes
,
grooms cakes
,
Kara Buntin
,
Kari and Brian Haskell
,
Pink Cake Box
,
Retro Bakery Las Vegas
,
Touch of Crystal caketopper
,
Walt Disney World 2011 Bridal Showcase