0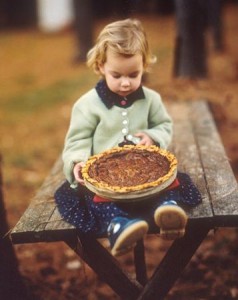 As I sit in a chilly house, looking out windows at the bright autumn Georgia sunshine, I wanted to take a moment and wish you a very Happy Thanksgiving.
My help is not required in the kitchen — too many cooks spoil the soup, and all that — so I'll take the opportunity to play with my children and catch up with friends and family across the interwebs.
In the meantime, here's a pic that always warms my heart.  I don't celebrate with cake today, but with pie. We'll be cutting into pumpkin and pecan here…because it's a law in Georgia that you MUST have pecan pie if pie is to be served.
Happy Thanksgiving to you and yours.  May we truly be thankful for the bounty we enjoy.
Read More:
pecan pie
,
thanksgiving