0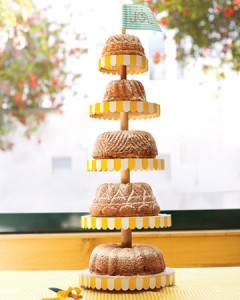 I can't see bundt cakes without thinking of My Big Fat Greek Wedding.  But perhaps that's a discussion for another post.
I don't know about you, but usually sometime during — or immediately following — the holidays, I seem to have a mini-burst of minimalism.  Usually, it comes in January, after the 12th day of Christmas has come and gone. But this year, I'm having one right now.  Maybe because of the extra week in the Christmas holiday season (according to our free market economy, which dictates Christmas begins the day after Thanksgiving.)  Or maybe it's too much of that delicious birthday cake. And oyster stuffing.  And.  And.  And.
At any rate, this lovely display appealed to me for its simplicity.  A nice piece of bundt cake, a cup of coffee, and you have a lovely, homespun, backyard (or church hall) reception.  I like it.
Read More:
bundt cake
,
bundt wedding cake
,
tiered bundt cake